It's once again my favorite day of the week.  Not, because it's Friday, BUT because it is Field Trip Friday with Jeanette from Snazzy Little Things.  Jeanette has become one of my favorite DIY bloggers over the past year.  She is talented, has great taste, and keeps within her budget.  Her blog reflects her lifestyle and her talents.  You are going to LOVE my friend, Jeanette…
I'm Jeanette, and I'm a Mom, recently married, and the DIY blogger behind Snazzy Little Things. I've been documenting my DIY adventures as I add vintage character and architectural interest to my newer, builders-grade home. I enjoy expensive-looking DIY while maintaining an extremely conservative budget. My adventures are also documented on Facebook daily.
Today I'll share my tips on how I "pulled it all together" over the years.
******
First, let me tell you the backstory…
Back in 2005, I took a gigantic leap of faith and built my very first home. This decision placed me smack-dab in the middle of a terrific neighborhood with excellent schools for my kids. But as you can see from the pictures below, I lived in a builders-grade, all-white "gymnasium" for several years. When I would call my kids' names, you could hear my voice echoing throughout the house. :)
During the construction phase, I opted for square footage upgrades including a sunroom addition, bumping out the family room by 4 feet, and opening the basement crawlspace for a full instead of a partial basement. I avoided fancy, overpriced upgrades and architectural details (such as wainscoting or upgrading my kitchen cabinets) — even though I desperately wanted them. The final result was a home with 3000 square feet, which is great for resale — yet it was extremely overwhelming to decorate (especially as a single Mom on an extreme budget, which I was at the time). Paying for this new home + daycare for two kids…it was, quite frankly one of the hardest things I've ever done.
So…where did I start?
"First Impressions…FIRST"
The first few years I was here, I would often ask myself "what do visitors see when they walk in my front door?" So I focused on those spaces first and tackled DIY as my time and budget would allow. Small, inexpensive touches can go a long way, too, such as adding potted flowers to the front porch. Painting the front door. Installing a new floor in the entrance foyer. Later I added DIY wainscot, which made a major impact in the overall aesthetic.
My newly painted black front door. (Meet my dog, Buddy, in the window). Read about how to achieve a high-gloss finish on your front door, tips and tricks here.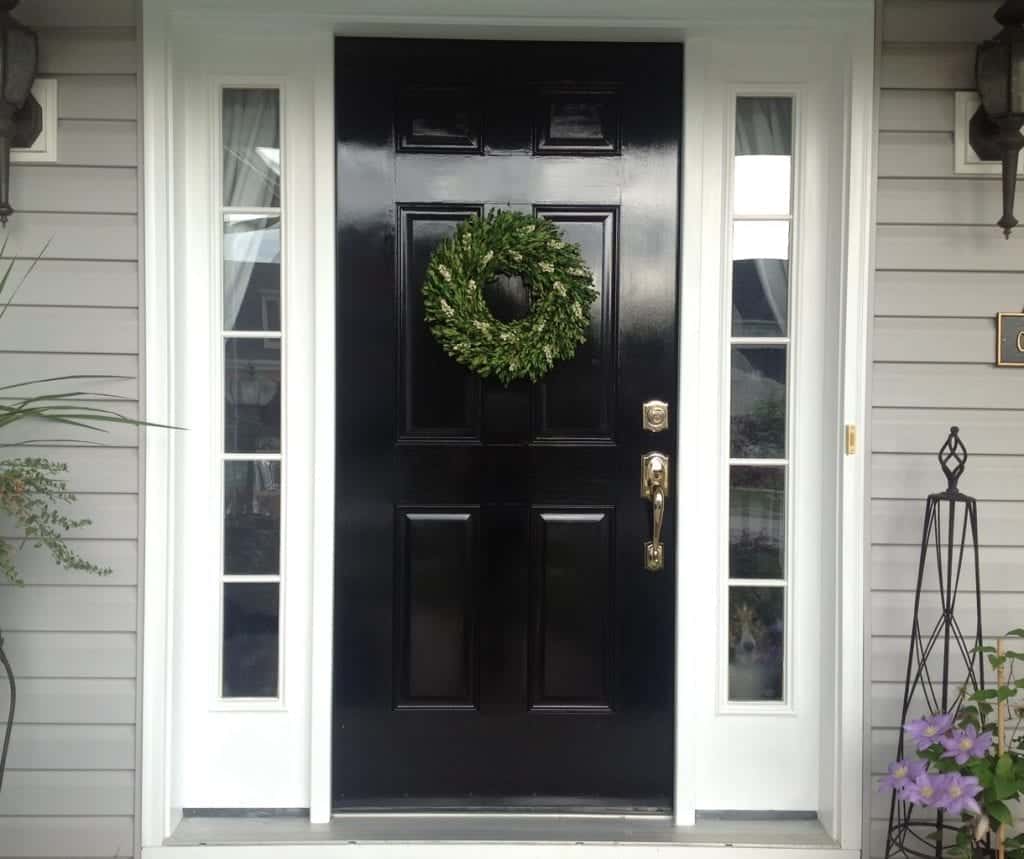 Over time, I saved for other exterior upgrades. Read more here.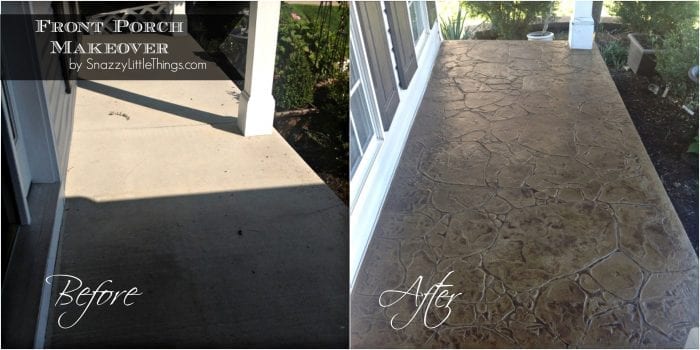 Eventually, I decided to add the architectural detail that I LOVE the most — wainscoting! Here is my foyer upon entering.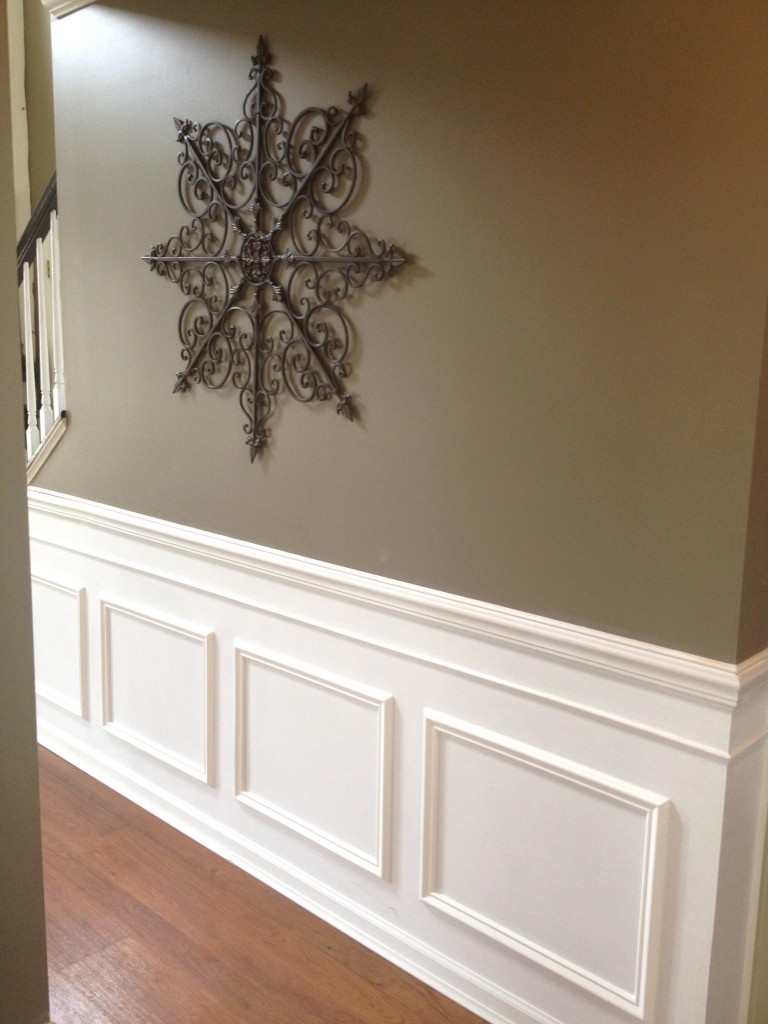 Above: See how you can upgrade your own space with a DIY wainscot project, inspired by my old Chicago brownstone apartment.
My office is immediately to your right when you walk into my home. As far as how I tackled all 3,000 square feet? I would work in "sections" and focus on that space for several months…then I'd move into the next room, or section.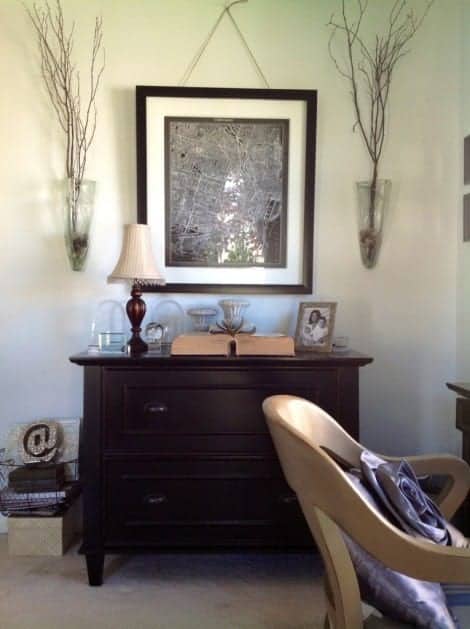 You can take a full home tour here.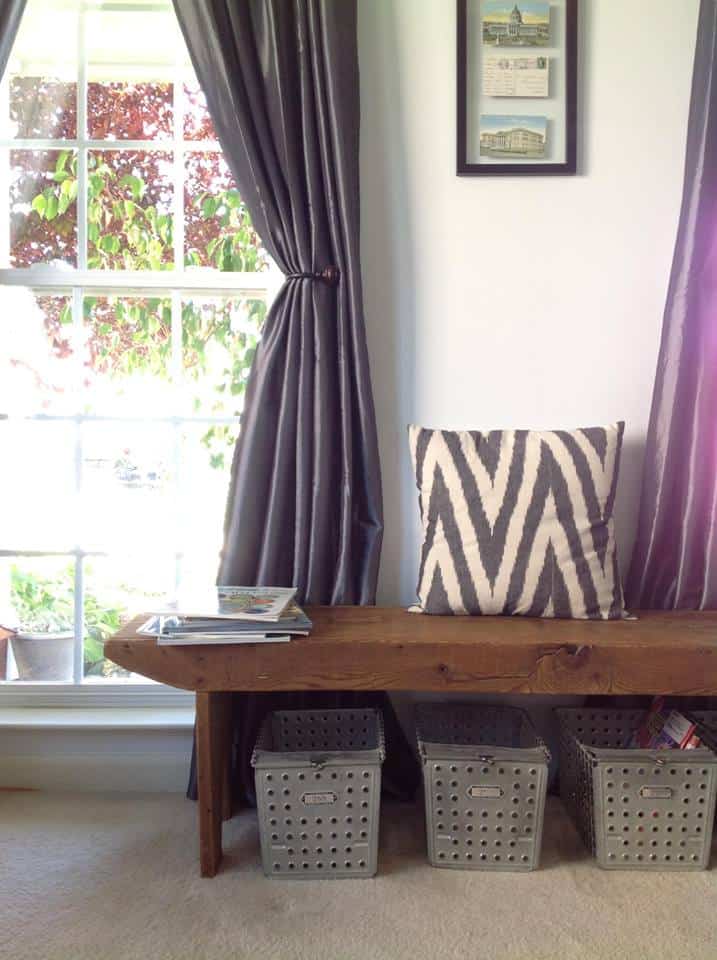 Above: The office houses a thrifted, old weathered bench. The locker baskets serve a practical purpose-they hold my kids' library books. I'm in the process of mixing "junque" with my more modern purchases. You can read more about that here.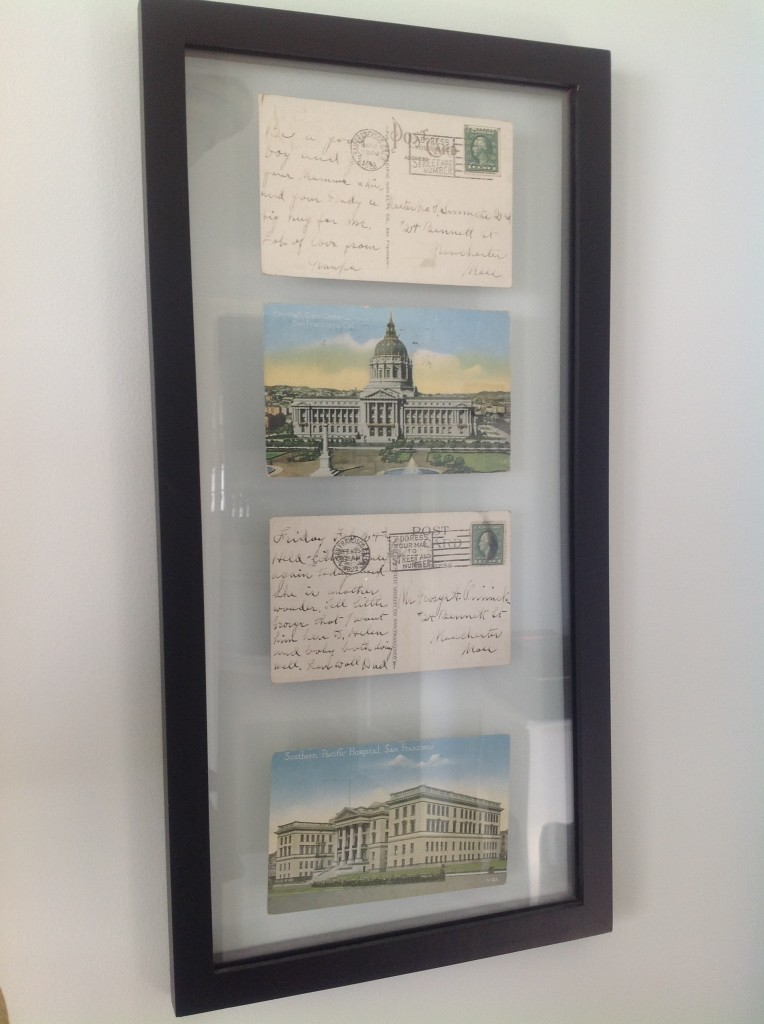 Above: Inexpensive, personalized DIY art using vintage postcards of some of my favorite places, vintage style.
"Salvage What You Own"
As far as furniture goes, I simply made due with what I had. As my tastes evolved, I would weed out pieces that no longer fit, but I was never hasty. I would salvage my favorite pieces and repurpose them. I even tried reupholstery for the sake of saving money. Over time and as I continued living in my home, I realized how I wanted each room to flow. When I shopped for new items, I did so with a vision and would only buy one piece at a time. Sometimes, rooms would sit empty and house a simple sitting area. A plant, and chair and a lamp is all you need sometimes to make a space beautiful. I would thrift and repurpose items to personalize each space. My DIY furniture gallery showcases some of the pieces I kept over the years. I always choose pieces with "good bones" and would serve me well if I repurposed them.
"Know When To Splurge"
Where did I splurge? I invested in key upgrades. I added a deck, stamped the exterior front porch and invested in some newer, key furniture pieces. We hired someone to also install our vision for an industrial-style basement. Sometimes you just can't DIY, you have to give yourself a break and know when you're in over your head and save for a splurge.
"Developing Your Style"
I recently began to describe my style as French-Industrial…and while I haven't fully achieved this look…it is certainly something I am striving for. Historically, I have been a minimalist when it comes to decorating. My preference is a no-fuss approach, with clean lines and a simpler look. Although, lately I admit to trying my hand at busier, seasonal vignettes (and having a lot of fun with it). You can see how I decorate my home for the holidays as well…I tend to go all out. Even for Halloween. Mine is the "party house" according to my friends.
I find ways to mix in elegant pieces with industrial ironwork, old chippy windows, and I love ALL tufted furniture. Interesting vintage items almost always make their way into the trunk of my car after an afternoon of thrifting. And because of the exquisite craftsmanship of French-inspired opulence, I am always drawn to anything from France. The language, the wine, the food…and of course, the furniture.
Everyone gathers in the kitchen, don't they? Here is a little accent I added – my kitchen backsplash. Approximate cost was only $150…$200 tops if you buy new brushes and supplies.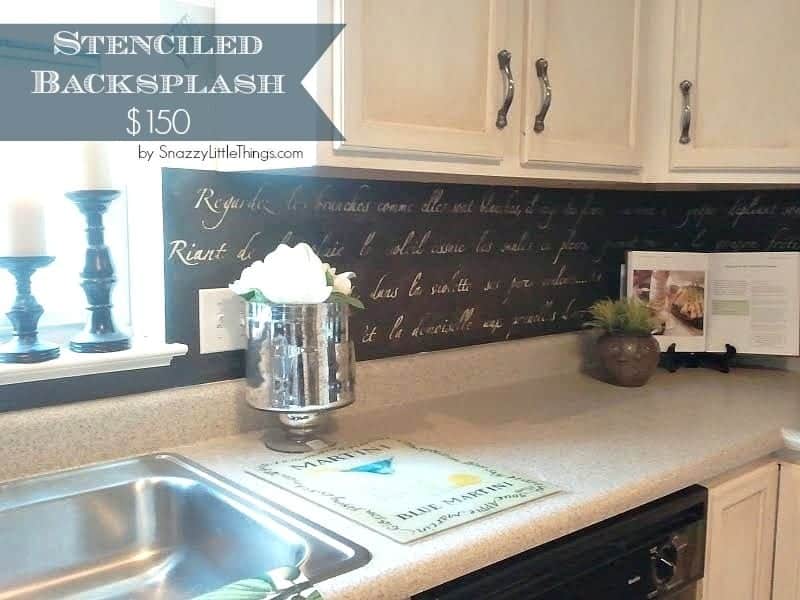 I only spent $1600 on all the kitchen upgrades. I painted the cabinets, and added an inexpensive backsplash with paint and stencils. I also weighed several options before settling on upgrading my island with Ikea butcher block.
I'm now working my way into the basement remodel which was unfinished for a number of years (yet it served as an excellent roller skating rink and dodgeball arena). Can you tell I'm embracing the industrial motif? You can see more of that "splurge" and the design process here.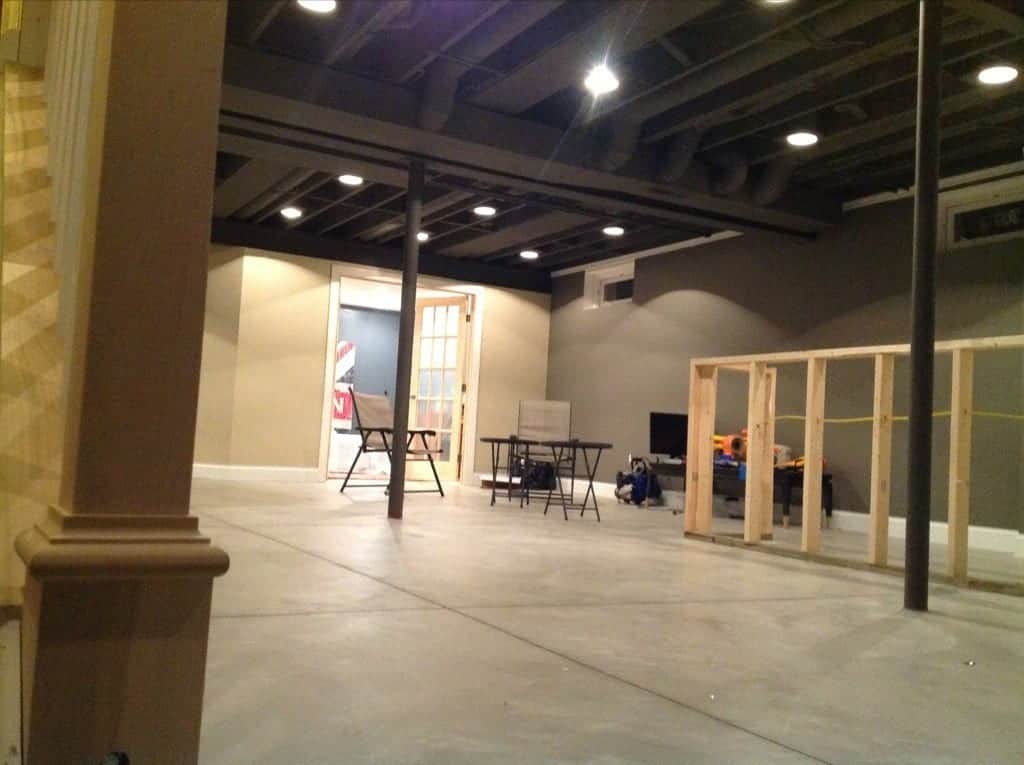 It's still a work in progress…acquiring pieces take time! In the background you might have caught a glimpse of a fun DIY project, an oversized piece of art made from a shower curtain. I had to learn how to increase the size and scale of my art in my open design home.
"Showcase Your Favorite Pieces"
Once I updated a piece of furniture, I would find a way to show them off! Such as my Victorian table. This beauty had a lot of stains and water marks when I bought it, but when I applied a coat of Paris Grey Chalk Paint…I was in love.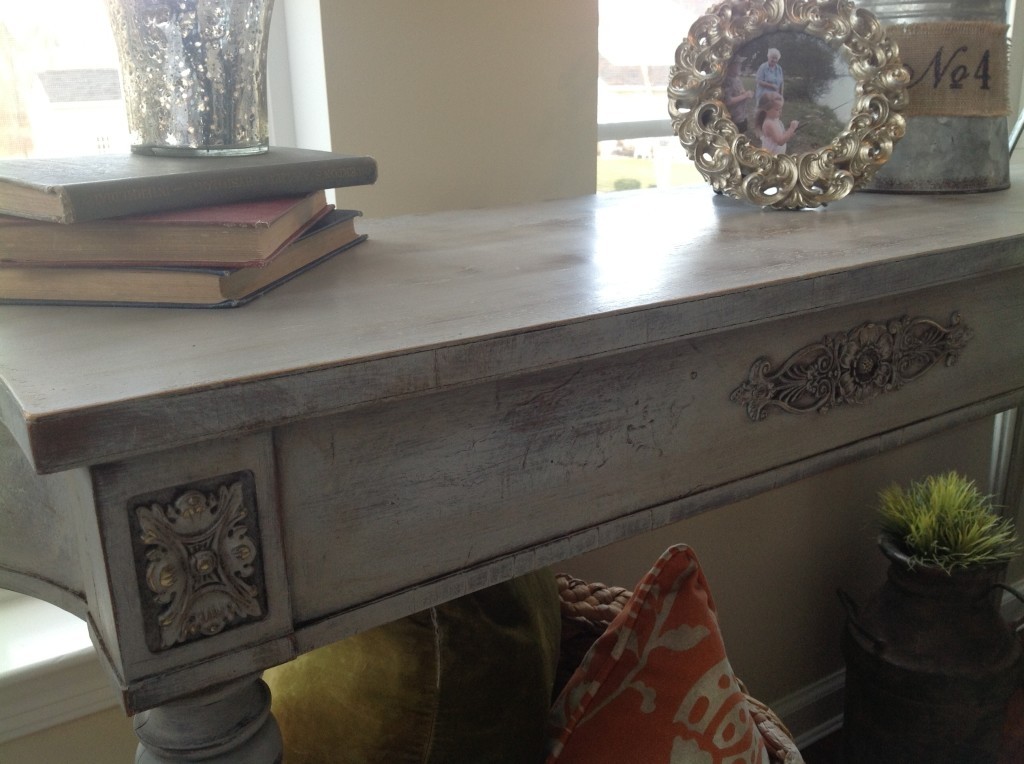 Above: A once damaged, $25 thrifted Victorian table that I refreshed with paint. It now serves as my sofa table.
I get such a kick out of finding an old, forgotten piece of furniture that has potential to become something "cool" or beautiful.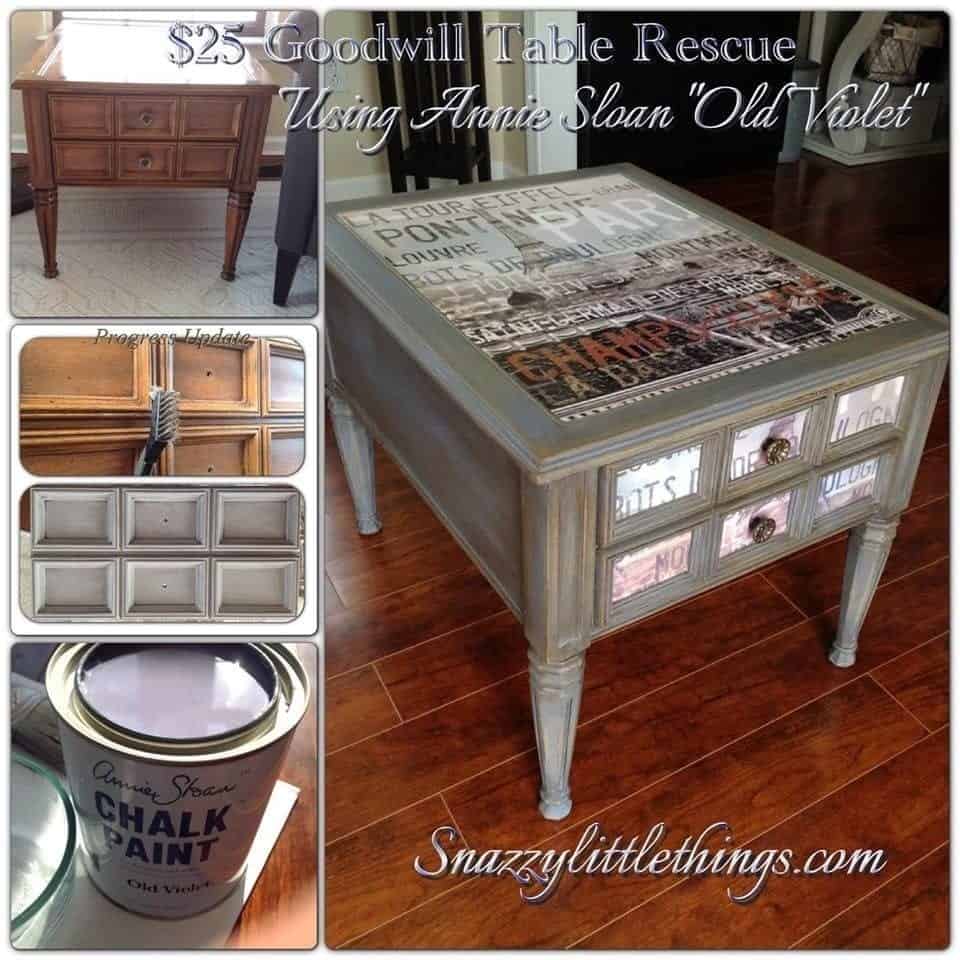 Above, this Goodwill transformation is a reader favorite, but an example of that "surprise element" in home decor that I love. It was THIS piece that got my blog recognized, and caught the eye of a local shop owner. I now sell my upcycled furniture creations in her store.
My Advice for Pulling It All Together?
To take your time. Relax and enjoy the journey of decorating and developing your style. Be patient when seeking the right pieces for your home, and avoid the temptation of buying the first item that comes along that happens to fit your dimensions. If something isn't working, remove it from the room, and try it elsewhere in your home. Always visualize an item's potential, whether it's an old piece of furniture or a full room ensemble. This opens your mind to all the possibilities – even thrifted items.
And when in doubt…simplify. It's the most economical option there is when it comes to DIY and decorating!
____
My entire blog was built with extreme budgets in mind, so I hope you'll visit for more ideas…feel free to stop by often for inspiration!
Furniture Transformation Gallery
Thanks SO much for sharing your journey with us, Jeanette.  It was an honor to have you post on my blog today. Thanks to everyone going on Field Trip Friday with Jeanette from Snazzy Little Things, today.  I hope you visit her blog and all of her social media outlets.  You WILL be inspired EVERYDAY.
Make it a Field Trip Friday!