Happy Friday, everyone and welcome to Field Trip Friday with Shabby Art Boutique.  It's going to be one of the best field trips yet!  Kerryanne is full of talent, a tender heart, and a shabby taste that I just love
.  I KNOW you will feel her sweet spirit and creativity as you learn more about her.  I first saw Shabby Art Boutique a few years and fell in love with the shabby look and style from Kerryanne. Having her guest post today is a real honor for me. 
Thanks for being here today, Kerryanne…
Hello there, I'm Kerryanne… and I'm very excited to be taking you all on a field trip to visit my little part of the world.
Firstly, a very big thank you to Meegan for allowing me to take her friends all the way 'down under' to Australia for Field Trip Friday.
My blog Shabby Art Boutique was originally a spin
off from my business and working studio, Woodberry Designs. That was 8 years ago, but now the two are one creative entity.
I love
all things 'shabbilicious' and slightly imperfect. My heart swoons for chippy, time worn and weathered décor… whether that be shabby chic, cottage, vintage or farmhouse styling.
I collect vintage buttons, doilies, teacups and aprons… and anything else I can sneak into our bulging storage unit. Shh, that's our secret!!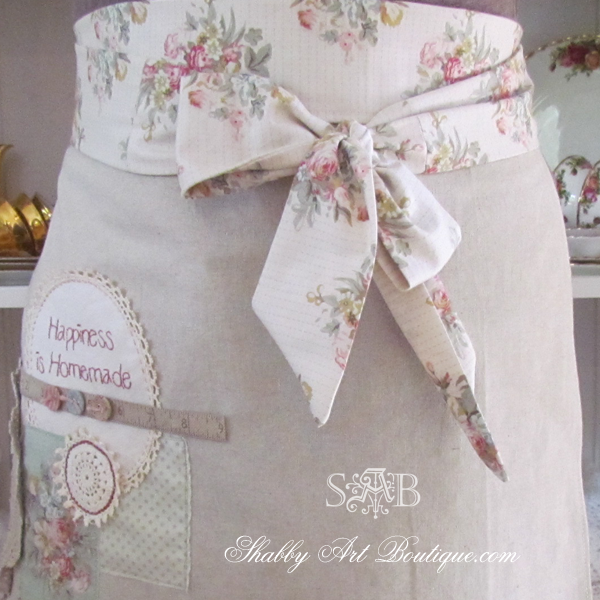 I'm an old fashioned apron wearing girl (hmm… can you still call yourself a girl at 50? You might have to humour me on that one).
My aim is to put homemade and home baked back into everyday living and this is what I like to blog about too.
Honestly, I missed my era… I really should have been a housewife in the 50's.
[how to make a faux patchwork cushion]
The 'welcome' mat is always out over at Shabby Art Boutique, so please feel free to drop in and check out my crafty projects and tutorials, recipes and DIY home making.
I even have a Tutorials page that makes it a bit easier to find specific projects.
[How to make a vintage milk jug cover]
For the past 2 years I've been publishing the Simply Shabbilicious magazine, which is available as a free read online issue or can be purchased as a digital or printed version. There's a handy 'Magazine' tab on my blog navigation bar that is a quick Go-To for past issues.
If you have a free moment, you may like to browse through one of them… they are filled with so much inspiration from truly amazing bloggers.
My studio has been my workplace for the past 23 years and I feel truly blessed to have been self employed all that time, plus combine it with being a stay at home mum. My girls are nearly 18 and 21, so are now almost independent.
In 2012 I wrote my first EBook, The Creative Mumpreneur, that showed women how to take their craft addiction from the kitchen table to creative business AND still be a stay at home mum. It fills me with absolute joy to hear success stories from women that were inspired by my book and motivates me to keep on sharing. The eBook
is available from my website, which re-opens in March.
Woodberry Designs (my website) is closed briefly, while it is getting a well earned facelift and all new stock… but I hope you will come by and visit when it re-opens in March. It's where I sell craft and sewing E-patterns, eBooks
and conduct E-courses.
When it re-opens, I'll have an all new line of beautiful cottage and shabby/vintage style décor items to sell too. Here's the best part… if you order from the US or Canada, your item will be sent from your own country, so no exorbitant postage costs!
 Seeing you've come such a long way, it would be rude of me not to show you around a little.
I live on Australia's east coast, halfway between two major cities, Sydney and Brisbane. We live opposite the beach in a beautiful coastal town, where we enjoy a very relaxed, laid back lifestyle.
I've always had a home based studio, but 18 months ago my hubby and I purchased a business that changed our lifestyle quite significantly. We now run a holiday resort and live here onsite. Moving to the resort meant trading in my big studio space for a craft room, but we've found a way to make it all work.
I'm busier than I've ever been, but I couldn't live without creativity in my life, so it is a priority to find that precious time every week.
You can follow that journey, as well as my attempt to renovate a whole home on a budget, over at my blog Shabby Art Boutique.
I'd LOVE for you to take the tours of my new craft room and if you'd like to see what I'm up to in there, you can get some sneak peeks while hanging out with me at the following places:
Follow on Bloglovin
or if you'd like my posts delivered directly to your Inbox
Subscribe to Shabby Art Boutique by Email
Thanks for taking a field trip with Meegan and I,
Hugs ~ Kerryanne
 It has been an honor and a pleasure to have Kerryanne on my blog today for Field Trip Friday with Shabby Art Boutique.  
Thanks again, Kerryanne.  xoxo
And thanks to all of you for joining me at Field Trip Friday with Shabby Art Boutique.
Make it a Field Trip Friday.