It's Field Trip Friday!  One of my favorite days of the week.  This week I am sharing 4 Field Trips for you.  Each one has been a guest on Field Trip Friday at some point.  I thought it would be fun to look back at  The Best of Field Trip Friday.  I hope you enjoy it as much as I did both times around…
There is a small snippet from each field trip so you can get a little taste of what each blogger's forte' is.
Let's get The Best of Field Trip Friday started!!!
First off, we start with one of the best bloggers around:
 Julie, the redhead from redheadcandecorate.com.
 Maybe some of your followers can try one of our ideas.
Here's our most recent project:
Winter Beach Lodge Living Room
My husband, Richard, and I, transformed our dark living room by selling our sectional on Craig's List, updating the furniture, painting, and adding some inexpensive custom trim to the walls to open the space.
I also integrated several DIY decorating ideas into the space such as:
&
We also used a dead elm stump from our yard to make an end table.
This was really easy, and almost free.
Just had to buy a can of polyurethane.
Click here to see the full tour from Julie.
Next, it was a delight to have:
Anne from White Lace Cottage
My kitchen has changed a lot!
Painting my kitchen cabinets was the best decision ever!
They have held up well and make my kitchen nice and bright even in the cold winter months.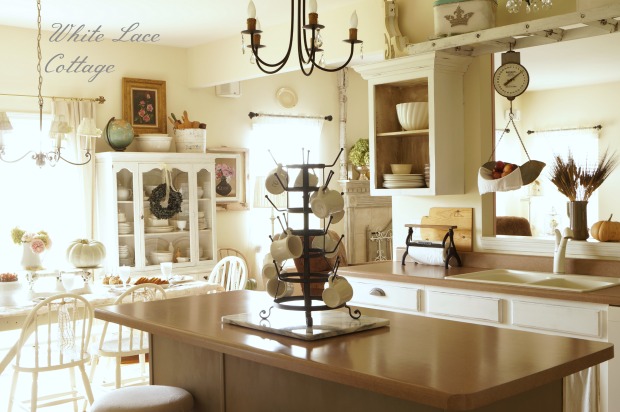 One of my favorite things to collect is white ironstone.
I love my open cabinets, it now gives me more room to display my growing collection.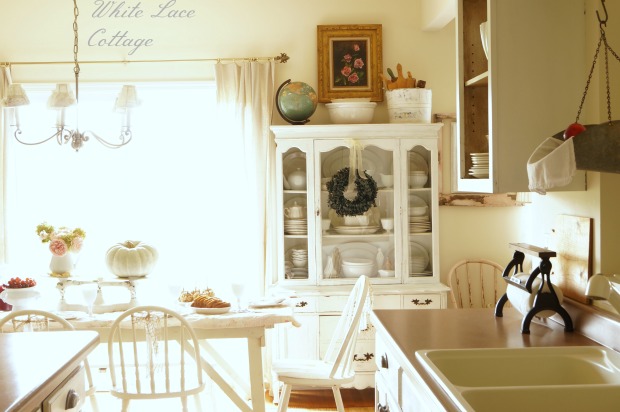 My kitchen was not the only room changed when I started my blog.
I transformed our whole house!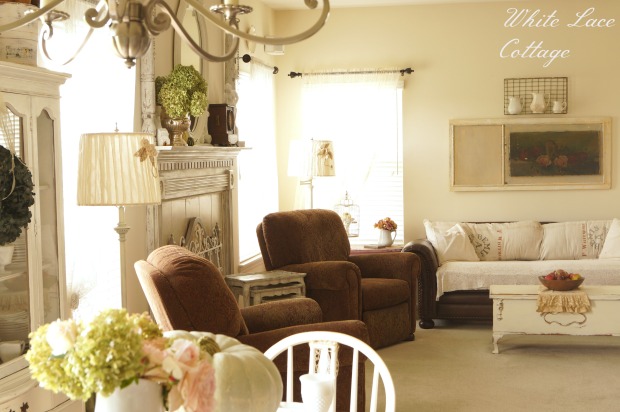 I painted all of my walls with a creamy white color.
This allows me to add any color to the mix,which is fun to do since I love to change!
More of Anne's home tour here.
Another classic blogger:
 Julie from the blog, Lilacs & Longhorns.
Our home is a blend of leather and stained woods (his favorites) as well as fabrics and finishes I love.
I recently finished re-doing our formal dining room and I absolutely adore how it turned out.
It's my favorite room in the house.
It is casual and comfortable and it seats a crowd.
We almost always host Thanksgiving and as well as a lot of family get-togethers so this space is well-used.
That said, our living room is the main hub of activity around here.
We do not have a formal living area, so this one serves as both a formal and casual space.
As you can tell, our home is very open and full of light.
It is what drew us to this house when we bought it.
To view Julie's FULL home tour look here.  
And finally, this week, a fabulous DIYER:
 Jeanette from Country Design Style.
I made the bed, not just pulling the sheets up. I made the bed, using plywood and wood leftover from a house construction across the street in our old neighborhood. The chair was made copied from one in a local furniture store window, except I added the "bowtie" a family symbol. The cabinet on the right was made to hold a TV but in this house it's only duty now is to hold pillows.
Our TV now hangs on the wall in the master bedroom. My grandson helped make the shelf under the TV during summer break.
This is a faux or fake fireplace and one of my personal favorites. Many broken and scrap wood pieces were used to make the mantel. This picture does not show it well, but the firebox area is painted with chalkboard paint. That makes for some fun chalk drawings.
 Now let's run back through the downstairs to the front door. I forgot to show the powder room sink. It was made with a leftover log from the living room ceiling.
I did not make it!
To view the full tour of Jeanette's home click here.
I hope The Best of Field Trip Friday was a lot of fun for you today.  I certainly had a great time enjoying the talents of each of my blogging friends.
Make it a Field Trip Friday for yourself…
Happy Weekend!