I am happy to have you here today and show you my Christmas Decorating with Family Traditions.
This is part of the Very Merry Christmas Home Tour hosted by Carrie of Lovely Etc. It's been an inspiring week browsing through the home tours and seeing all the beautiful and creative ideas.
If you are visiting from DIY Beautify, WELCOME. It's a pleasure to have you here.

After moving into a new (to me) apartment this year, decorating for Christmas was going to be a new challenge. Do I use what I already have? Do I add to my Christmas collection? Where do I even place the Christmas tree?
These were all questions that gradually got answered as I slowly but surely decorated this cottage apartment in the desert.
After mulling it over, the Christmas tree would sit in front of our dining area window. Then our neighbors and friends could see it as they walk past our cottage apartment. Soon we will be adding bright colored Christmas lights on the bushes underneath the window. This will definitely highlight the tree.
In 42+ years of marriage, this has been a rough year. Maybe one of the hardest. Both physically and emotionally. I'm not complaining or trying to get attention. I am explaining the reason for this year's Christmas Decorating with Family Traditions.
I have always done the Christmas decorating with the kids and/or grand babies. This year, I want to create memories for just the two of us. Having my husband help with the tree is a new memory that we are creating together.
Watching him choose and hang the ornaments melted my heart. To see his creative touch and ideas was something I won't forget.
This includes decorating the (garage sale find) mantel in our living area.
With the glittery cottage houses and a collection of  DIY Christmas trees, I created a village, if you will. Each cottage was pure white. But after hanging the Merry Christmas sign, some red was needed to balance out the mantel. With red paint on one of the cottages, the mantel was looking pretty, Especially with the fairy lights.
During a trip to Ralph Jones Display, my husband spotted this string of vintage style bells. They really ring! And sound like you are on a sleigh ride.
They are the perfect addition to the mantel. Great style and awesome colors.
Resting underneath the mantel is a thrifted buffet that I have painted. It is a beautiful place to display snow globes and extra ornaments.
My husband has collected snow globes for years. He favors the musical ones.  The past few Christmas's he has given a few to our kids and grand-kids. This is just a tiny sample of what he has now.
I love how the fairy lights help each one glow.
The wooden tray with MORE fairy lights is the ideal place for these gorgeous ornaments from Balsam Hill.
Sometimes Christmas is about creating new memories. Not about the best designed tree, mantel or decorations. It's about Christmas Decorating with Family Traditions. Both new and old.
Thank you for letting me share a little bit of my heart today as well as my Christmas mantel decor.
Before you leave take some time to visit Sunny Side Design for the Christmas Home tour there. As well as the 20+ MORE Christmas tours linked below.
Make it a wonderful day.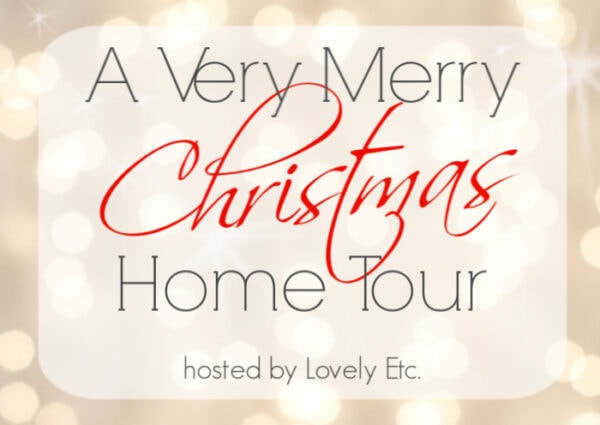 Monday

Lovely Etc * Thrifty and Chic * Boxy Colonial * Chatfield Court * A Brick Home
Tuesday

The Striped House * Casa Watkins Living * Up to Date Interiors * Our House Now a Home * All Things With Purpose
Wednesday

Green With Decor * Lehman Lane * Jonesville * Sweet Pea
Thursday

DIY Beautify  * What Meegan Makes * Sunny Side Design * Bright Green Door