In times of struggle, challenges, or even sickness There's So Much Life To Live in-between, isn't there? I love Summer, the sun, ocean and making memories with my family. With these thoughts in mind, I have a created a There's So Much Life To Live Summer Printable for each of you.
This post has been organized and coordinated by Carrie from Lovely, Etc…
There are several more Summer printable art ideas linked at the bottom of this post. I can never resist a creative and inspiring free printable, can you?
If you have known me for very long, you know that Summer is my favorite season, by far. The warmth of the sun on my face, dipping into a cool pool or ocean, drinking my raspberry lemonade poolside, and a new book is a pass time that calms my soul. I have a list of Ten Peaceful Hobbies that you might like reading, as well.
What about times when I CAN'T go swimming or visit the beach? There is so much more that I can do to enjoy life.
Whether it's visiting the grand-babies, serving others, talking with neighbors, listening to the sounds of local birds, drinking herb tea from my grandma's vintage tea cups, writing in my journal, baking a cake, painting a thrifted piece of furniture, going on a walk, reading scriptures, praying or meditating-there is so much in the "in-between".
We don't need the "perfect" scenario to LIVE our lives. The "in-between" of our desires and/or expectations can be just as beautiful. It is up to us to make and create positive, meaningful lives. Especially the "in-between".
Even sitting on my tiny apartment back porch brings me joy and happiness. We don't need grandiose events, to LIVE, do we?
So my question to you is: What are YOU going to do to create a meaningful "in-between" this Summer? I would love to hear all about it.
My There's So Much Life To Live Summer Printable is free for you to print on your own computer. Just right click, press print (in color) and enjoy! Perfect as a gift, in your office, craft room or porch. You are not allowed to use this for monetary gain, or I will have to delete it. And I don't want to do that!
The water color red and yellow flowers were created by Fox and Hazel.
Thanks for stopping by! I hope you take advantage of and enjoy the other amazing Summer Printable Art pieces.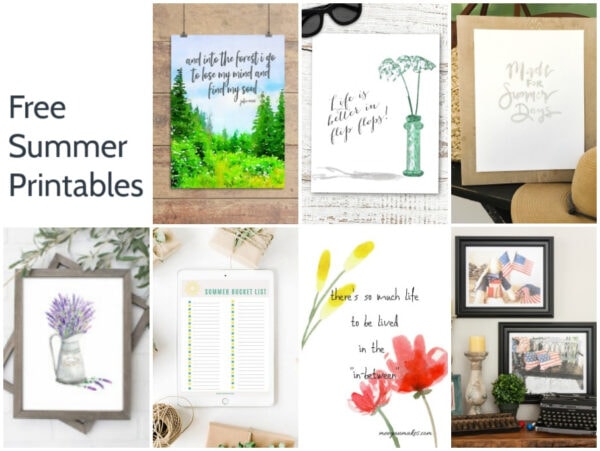 Free Printables: Colorful Art for Summer from Lovely Etc.
Free Summer Printable: Life is Better in Flip Flops from Up to Date Interiors
Set of 5 Summer Quote Printables from Twelve on Main
Watercolor Lavender Free Printable from Postcards from the Ridge
101 Summer Bucket List Ideas – FREE Printable from Charleston Crafted
There's So Much Life To Live Summer Printable from What Meegan Makes
Wall Art Free Printable | 3 Colorful Designs For Summer from Sunny Side Design