I am lucky enough today to have a post for Six Delicious Soup and Chili Recipes With 6 Bloggers.  I am excited to share them with you…
It's winter, the days and nights are cold, it is the perfect time of year to enjoy a hot bowl of soup or chili for lunch or dinner. I'm always looking for a new recipe to try, so I asked some of my favorite bloggers to share a recipe that their family enjoys.
Browsing cookbooks, magazines, Pinterest, and the Internet for recipes is enjoyable, but you can't always guarantee that the results will be good. These recipes are tried and true and your family is sure to enjoy them.
Christy's son will only eat two soups and this is one of them. In the summertime Christy uses fresh tomatoes and zucchini from her garden in her recipe. I like a soup that's enjoyable year round.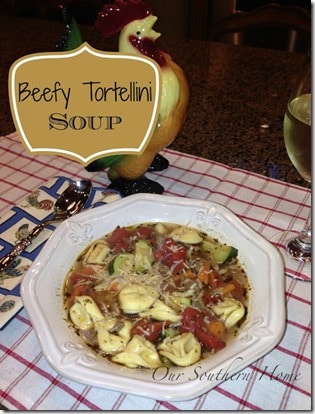 Beefy Tortellini Soup from Our Southern Home
Christine recommends serving this delicious Italian soup with salad and crusty garlic bread. I can picture myself enjoying a bowl of this on a cold winter's night.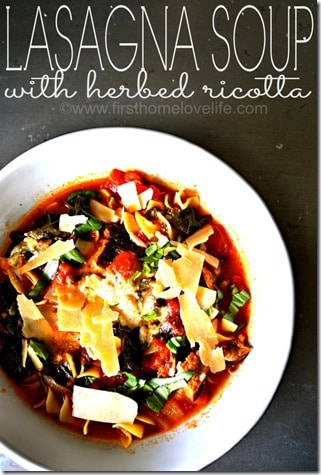 Lasagna Soup with Herbed Ricotta by First Home Love Life
Meegan prefers ground turkey to ground beef and reports that even her grandchildren beg her to make this chili. Making it in the slow cooker is a plus for dinner on a busy day.
Meegan's Slow Cooker Chili from What Meegan Makes
If you love Olive Garden, then you'll want to try Sharon's copycat recipe of their pasta e fagioli. Her recipe makes 9 quarts but can easily be halved for smaller families.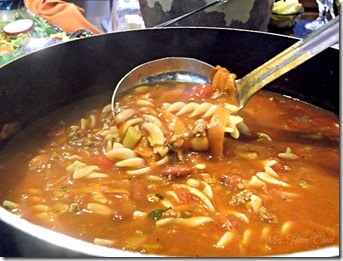 pasta e fagioli from Mrs.. Hines' Class
We can't leave out the vegetarians! Megan's chili is packed with healthy ingredients and can be made in a slow cooker.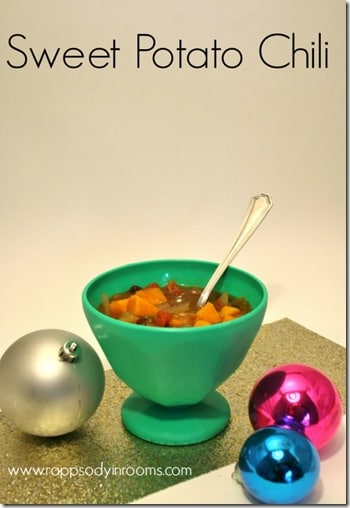 Sweet Potato Chili from Rappsody in Rooms
A new favorite from my kitchen is Corn Chowder with Sausage. This recipe is based on one from a herbal mystery series that I enjoy.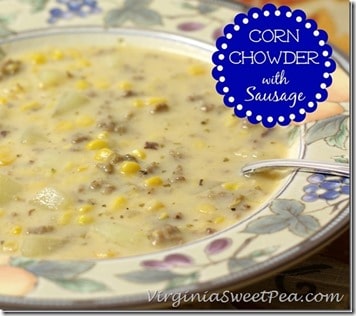 Corn Chowder with Sausage from Sweet Pea
These soup and chili recipes all sound so good, I'm not sure which I'll make first!
Don't they each look delish and comforting? Now you have Six Delicious Soups Recipes With 6 Bloggers to choose from.
I hope you will try one and let me know how you like it!
More recipes that you might enjoy from my blog:
Italian Turkey Meatloaf from scratch
Homemade Biscuits from scratch
French Silk Pie made from scratch with fresh ingredients